When Gregory Peck encountered Saint John Paul II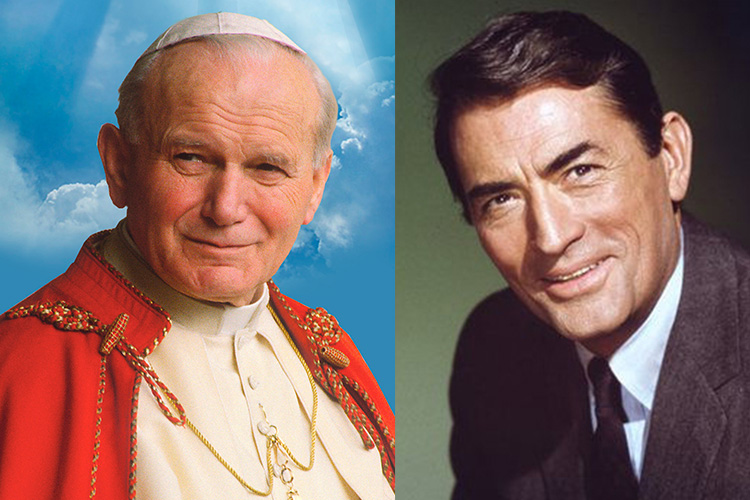 One of the most popular of Hollywood actors of the mid twentieth century, Gregory Peck stands tall in the entire history of Hollywood. Ranked no.12 among the greatest male stars of Classic Hollywood cinema, Peck has been nominated for Oscar Award five times and have won once for his stellar performance in the film 'To Kill a Mocking Bird.'
Although a great star basking in the limelight of glamour and success, Gregory Peck was a man of profound religious convictions. His religion was one of broad sympathies and high moral passion. Peck considered the Bible for guidance in the immense mystery of death and creation.
Many have no idea that Gregory Peck once really thought of becoming a priest. He liked and respected the clergy all his life. The great thespian had great regard for late Pope John Paul II, and counted his introduction to Pope John Paul II as a high point of his life. Later, Peck commented on his encounter with the saintly Pontiff: "He impressed me more than any other man I've ever met and I've met a lot."
Peck has recounted his meeting with saintly Pope John Paul II, which took place in 1970. That was when the Pope came to Washington during Jimmy Carter's presidency. That is how Gregory recalls his meeting with John Paul II:
"My wife and I happened to be seated on one of the aisles, and the Pope came right down and he saw me and smiled. The smile was genuine, not a politician smile, the practiced smile. He shook my hands with me and went on. 'And then Carter said, "Hello, Gregory, what are you doing here?" and I said, "Well, Mr. President, you invited me." He said, "Just a minute" — and damned if he didn't run after the Pope, grabbing him by the arm and pulled him back. He said, "Your Excellency, this is one of our best-known, most-beloved American film actors." And he looked at me, ah! — there was a glimmer as if somehow he must have seen me in a movie. His eyes widened and he took me in his arms. And he sort of grabbed me by the elbow and said, "God bless you, Gregory. God bless you in your mission." And he went on."
A Roman Catholic by birth and faith, Gregory once said: "Faith is a force, a powerful force. To me, it's been like an anchor to windward — something that's seen me through troubled times and some personal tragedies and also through the good times and success and the happy times."
When asked by a journalist, "Are you a practicing Catholic?" Gregory replied: "I am a Roman Catholic. Not a fanatic." That sums up the religious fabric of the legendary actor.