The Chinese girl who inspired Fulton J Sheen to make the 'Holy Hour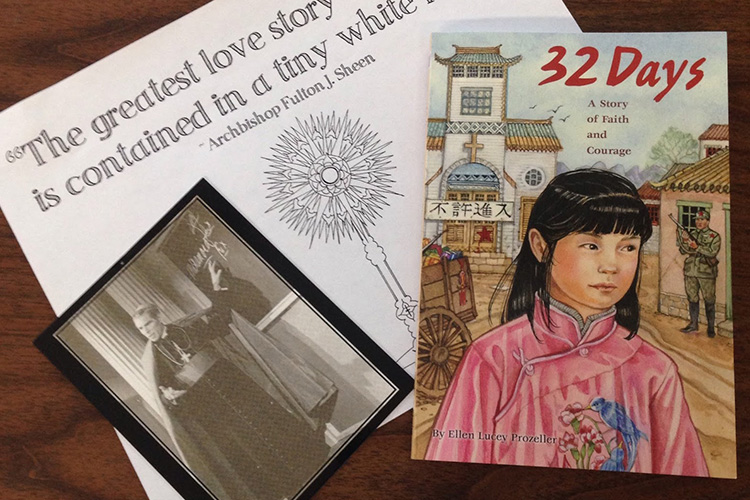 In his celebrated autobiography 'Treasure in Clay', Archbishop Fulton J Sheen speaks about the two resolutions he made on his day of his ordination.
This first one: I would offer the Holy Eucharist every Saturday in honor of the Blessed Mother to solicit her protection on my priesthood. The Epistle to the Hebrews bids the priest offer sacrifices not only for others, but also for himself, since his sins are greater because of the dignity of the office.
The second one: I resolved also to spend a continuous Holy Hour every day in the presence of our Lord in the Blessed Sacrament.
Bishop Sheen had kept his promise all through his life. He has testified that it was one of his major sources of spiritual power. One he was asked what really inspired him to make the holy hour. The reply was an exciting story – a story of an eleven year old Chinese girl.
When the Communists took over China, they imprisoned a priest in his own rectory nearby the Church. When he peeped through the window, he saw the Communists proceeding into the Church, where they went into the sanctuary and broke into the tabernacle. They took the ciborium and threw it on the floor with the hosts spilling out. The priest knew exactly number of hosts in the ciborium: there were thirty-two.
While this desecration was taking place, a little girl was praying in the back of the church. Bewildered, she watched all the proceedings in silence and sorrow. When the night fell, the girl returned at night, and stealthily entered the Church.
She knelt down before the spilled hosts and made a holy hour of prayer, an act of love to make up for the act of hatred. After the holy hour she went into the sanctuary, knelt down, bent over and with her tongue received Jesus in Holy Communion (it was not permissible for laymen to touch the Sacred Host with their hands.)
Every night, the little girl used to come back to make her holy hour and receive Jesus in Holy Communion on her tongue. On the thirty-second night, after she had consumed the last and thirty-second hosts, she accidentally made a noise and woke the Communist guard who was sleeping. The guard was infuriated. He chased the girl, caught her, and beat her to death with the butt of his rifle. The priest helplessly watched this incident from his confinement.
Later, when Archbishop Fulton J Sheen happened to hear about this incident, he was profoundly inspired by the heroic act of the girl, and he at once promised to make the 'Holy Hour' before the Blessed Sacrament.